According to data from the European Bioplastics Association, in 2019, the global production capacity of Biodegradable Plastics reached 1.174 million tons, an increase of 100,000 tons over 2018, and a year-on-year growth rate of 9.01%. It is expected to reach 1.334 million tons in 2024, with a 5-year compound annual growth rate of 2.59%.
The global degradable plastic production capacity is mainly distributed in China, Western Europe and North America, and the industry concentration is not high. Western Europe and North America were the first regions to start research, production, and application of degradable plastics, and their combined production capacity accounted for half of the world.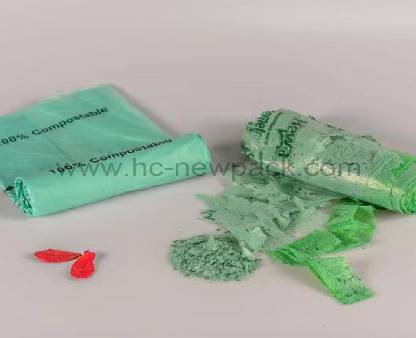 Biodegradable Plastic Bags
Although the development of Biodegradable Plastic Bags in China started late, research and development and industrial production have advanced rapidly. In 2019, the production capacity reached 617,000 tons, accounting for 45.3% of the total global production capacity, leading Europe and the United States.
In January 2020, my country issued the most stringent "plastic ban", comprehensively restricting the use of non-degradable plastics, orderly prohibiting and restricting the production, sales and use of certain plastic products, actively promoting alternative products, regulating the recycling of plastic waste, and establishing Improve the management system for the production, circulation, use, recycling and disposal of plastic products to effectively control plastic pollution in an orderly and effective manner.
The new version of the plastic restriction order takes three steps. According to the principle of "banning one batch, replacing one batch with recycling, and standardizing one batch", it will be divided into three time periods: 2020, 2022, and 2025, and clarify the phased tasks of strengthening plastic pollution control aims.
From the perspective of market size, considering the replacement demand of 1.43 million tons in four major areas such as express delivery and takeaway, if calculated at an average price of 25,000 yuan per ton, my country's Biodegradable Plastics Market is expected to reach 35.8 billion yuan in 2025. The annual consumption of degradable plastics in my country was only 42,000 tons, and plastic replacement is an emerging market from scratch.