After the meal, by the way throw away the garbage, and then walk around, this is the normal life of many people. A piece of "plastic ban" cast a shadow over the image of the garbage bag "a good helper in hygiene". After more than half a century of hardship, why did the drawstring garbage bag change from a rookie in the industry to "everyone wants it?" Garbage Bag Manufacturer will tell you why.
The harm of traditional garbage bags is mainly reflected in its poor degradability. When the scientists tested the degradation rate of the garbage, they found that Garbage Bag could not be biodegraded, and only photodegradation could be seen. The degradation time was also difficult to estimate, maybe a "long time" over 500 years.
In China, the treatment of food waste mainly depends on landfill or incineration. Landfill disposal of waste will generate a large amount of methane, and the greenhouse effect of methane is 23 times that of carbon dioxide, so it is more harmful to the environment. Garbage has a high water content and consumes a lot of energy during incineration, resulting in increased carbon dioxide emissions, so it is not suitable for incineration.
There is no doubt about the total degradation of food and kitchen waste from natural flora and fauna in nature. However, the major problem with this method of composting is the waste classification. When waste is mixed with non-degradable disposable tableware or traditional garbage bags, the method of composting obviously encounters a bottleneck.
Drawstring Garbage Bags, six advantages, you can rest assured to buy, not dirty hands, easy to remove, large capacity, strong load bearing capacity, no water leakage, easy lifting, automatic closing, giving you the love of not dirty hands, let life compare convenience.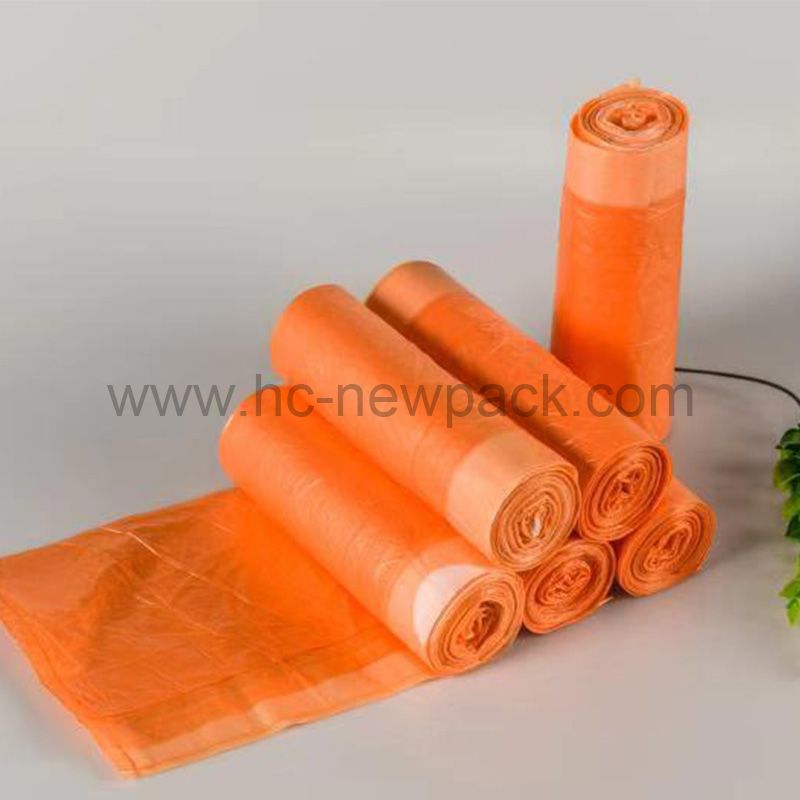 Drawstring Garbage Bags
The drawstring garbage bag is pulled and lifted automatically, which means that it does not dirty your hands and makes life more attractive. Because of it, your life is orderly, and it can cope with the ever-changing life.
The good life starts from home. The portable garbage bag is made of better PE material, which is safe and environmentally friendly and free of impurities. Point-and-break design, neat cutting, and spaced encryption. As long as you tear it gently, it is more convenient to use, bringing you convenient life and quality enjoyment. Free your hands, close the mouth automatically, and walk away as soon as possible. The garbage is easily packed, and the seal is increased. There is no garbage leakage and odors flowing out. Thickened quality, intimate large-capacity design, only you don't want to install it, you can't fit it, strong load-bearing, toughness and endurance, better loading. The golden cut ratio is suitable for all 20 litre trash bins. It is suitable for multiple environments in the home. It is easy to use and easy to solve household waste problems.
The drawstring garbage bag automatically closes and wears the rope to close the design. It easily pulls and collects the odor, and closes the mouth tightly. It is not easy to smell. Life is so simple. The side seal is tight, and the heat sealing process is adopted, and the interface is relatively sturdy, does not drip and leak, and is clean and tidy. Anti-stab is not easy to wear, thick material, good material, we will not be able to withstand high temperatures, no drip at the bottom, to solve different high temperature soup, not afraid to break!
The drawstring of the drawstring garbage bag is thicker, not easy to break, and tougher to avoid sharp puncture. Wide application, convenient, practical and clean.
The details, the experience is supreme, the technology is strictly controlled, the workmanship is meticulous, the appearance is durable, the good quality is visible, the health, colorful and multi-colored, freely presented.